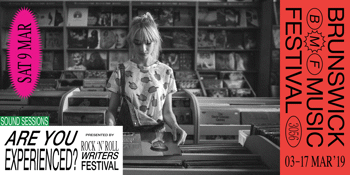 Brunswick Music Festival and Rock 'n' Roll Writers Festival present
SOUND SESSIONS: Are You Experienced?
Leanne De Souza (moderator), Clare Moore + Dave Graney
Brunswick Mechanics Institute (Brunswick, VIC)
Saturday, 9 March 2019 2:00 PM
Authors, painters, filmmakers and playwrights can have long and successful careers, with age being no barrier to the perception of their work. But what about musicians? Join Rock and Roll Writers Festival co-founder and facilitator Leanne de Souza in conversation with with both Dave Graney and Clare Moore. Be privy to personal insights and memories - how they navigate the creative spark, art, music, love and making ends meet. A creative partnership over the long haul of a life lived for Rock and Roll is one hell of a ride.