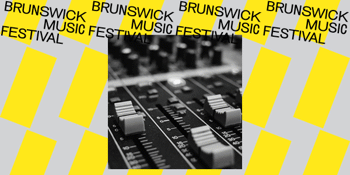 Brunswick Music Festival x Milk! Records x Small Time present SOUND SESSIONS
Recording: Producing your own work in a bedroom or studio setting
Evelyn Ida Morris (moderator) + Anika Ostendorf (Hachiku) + Diimpa + Raquel Solier (Various Asses)
Small Time (Brunswick, VIC)
Saturday, 13 March 2021 2:30 pm
Ready to commit that to tape (so to speak)? Whether at home or in a studio setting, laying down your own music masterpiece has never been more accessible. A panel for curious newbie or seasoned pros looking to level-up alike, it will cover a range of perspectives from those who know the ropes and are keen to share their experiences.
__________
Moreland City Council acknowledges the Wurundjeri Woi Wurrung people as the Traditional Custodians of the lands and waterways in the area now known as Moreland. We pay respect to their Elders past, present, and emerging, as well as to all First Nations communities who significantly contribute to the life of the area.
_______
Brunswick Music Festival strives to provide a safe environment. Instances of harassment of any form will not be tolerated. If you experience or witness anything that makes you or someone around you feel uncomfortable, please reach out to the venue staff.
__________
We take access and inclusion seriously. If you have a specific access request, we would love to hear from you! Please send us through an email via festivals@moreland.vic.gov.au. Please note all Brunswick Music Festival events have a gender neutral toilet/s and are wheelchair accessible.